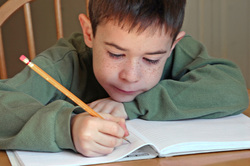 If you had a chance to go back in time, would you do things differently? Is there advice you might give your younger self, knowing what you know now? Why not put it in writing? Simon Walsh, a person who stutters and the host of the blog "Diary of a Stutterer", did just that. After reading his post, I immediately knew I wanted to use this idea in my own therapy room.
The purpose of this assignment is not to dwell on "mistakes" of the past, but rather to help identify all the positive changes that have been made. This is a fun way to get students talking about the consequences of previous unhelpful thoughts or habits so that if they were to reappear, which habits so often do, the student might be better equipped to identify and extinguish them. For younger students and students that are new to therapy, this assignment can be adapted by having them write a letter to their future self. Instead of focusing on how things have changed and what they have learned, instead this assignment allows students to ask questions they may have about stuttering and identify things that they want to change.
This is one of my favorite therapy activities! With permission from the student, I have posted an example of one of these letters. Do you have any similar activities you have done with your student, your child or something you did for yourself? Post below!
Dear 8 year old ZC,
By now, you've probably noticed that you have a stutter… and it's not going to go away. But don't fret; you'll be fine. My first piece of advice is to get therapy help as soon as you can, not only to help your fluency, but to make yourself more comfortable with your stutter. The most important thing is to be yourself! Don't let your stutter change who you are. Don't worry too much, I know it doesn't seem likely, but you'll get used to it, and even be able to talk to others about it and advocate for yourself (although it seems impossible right now). There'll be ups and downs with fluency and self-image, but you'll make it through! If people ask you what's wrong, don't get angry. They just don't understand.
Good Luck,
16 year old ZC